WATCH THE CONCERT NOW: Mobb Deep & Naughty By Nature Tear Down 'The Breaks' Premiere Event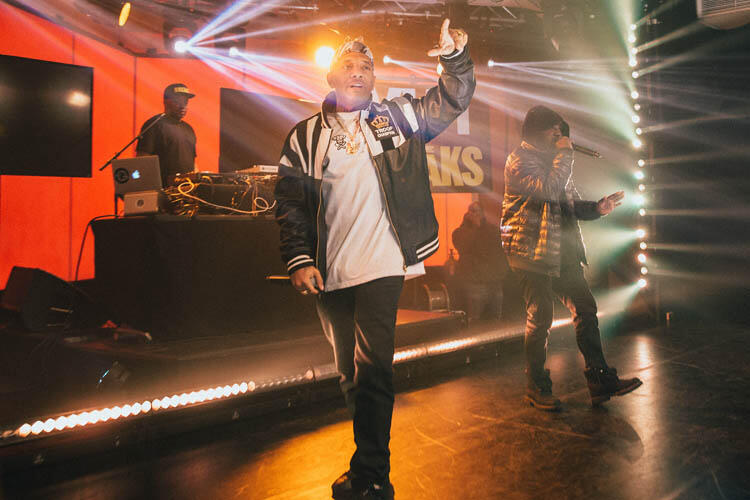 On Wednesday night New York was blessed with an epic concert by two of Hip Hop's legends: Mobb Deep and Naughty By Nature.
In celebration of VH1's February 20th premiere of The Breaks, Power 105.1 and VH1 teamed up to put on one epic night at our iHeart Radio Theater hosted by The Breakfast Club squad: DJ Envy, Charlamagne Tha God and Angela Yee.
Things were kicked off by us getting to meet and hear from The Breaks stars Mack Wilds, Antoine Harris, Sinqua Walls and Afton Williamson as we sipped on some Hennessy.
Before The Mobb and Naughty went on, the winner of our #BattleForThe Breaks contest, Kaimikaze Kai, took the stage and opened up for the Hip Hop legends.
Once that concert took off, it felt like we were literally transported back to the '90s, that era when the streets and music were one, a golden ear that even the new generation practically LIVE for.
Havoc and Prodigy gave us a DOPE performance thanks to a solid set which includes bangers such as 'Shook Ones', 'Survival Of The Fittest' and 'Quiet Storm' that had us all ready to pull our hoodies up.
Treach and Vin then took the energy level to a whole another level with hits such as 'O.P.P', 'Hip Hop Hooray' and finished up the night strong by letting fans join them on stage and plugging the importance of all races sticking together.
Also in the building we saw actor Wood Harris, who is in The Breaks, but has also appeared in The Wire and most recently the New Edition TV series.
Watch the entire concert below:
RELATED VIDEO: Prodigy Shows Angie Martinez How To Chef Up Prison Chow

ON AIR: Weekdays 6AM-10AM

The Breakfast Club is a four and a half hour morning show featuring DJ Envy, Angela Yee and Charlamagne Tha God's unrivaled interviews with celebrities and hip-hop artists. From megastars like Justin Bieber, Nicki Minaj and Arnold Schwarzenegger to rap icons such as Rick Ross, Waka Flocka and Gucci Mane, every guest visiting The Breakfast Club is grilled with their signature blend of honesty and humor. The results are the best interviews to be found on radio.

The Breakfast Club includes segments such as Angela Yee's Rumor Report, Donkey of The Day, and DJ Envy's People's Choice Mix. Angela Yee informs the listeners about pop-culture news during Angela Yee's Rumor Report, while The Breakfast Club gives their unique views on each topic. During Donkey of the Day, Charlamagne tha God chooses a public figure or celebrity to poke fun at after public missteps. DJ Envy's People's Choice Mix consists of 25 minutes straight of DJ Envy's award winning music mixes.