Are Tequila Drinkers More Likely to Cheat????
Are Tequila Drinkers More Likely to Cheat???? Well according to a recent survey, the answer is YES!!!!!! I can definitely see why this stat may be true...from personal experience, tequila will take you to another level and you will likely appear in rare form LOL. Check out the study and let me know what you think.
THU APR 25, 2019 | ABOUT 1 HOUR AGO | POSTED IN: RELATIONSHIPS| SOURCE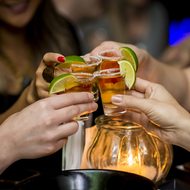 Essay ghostwriting service EduBirdie conducted a survey of 2,000 American drinkers to uncover their imbibing and cheating habits.
The survey, which polled whiskey, Tequila, wine and beer drinkers, found that81% of Tequila imbibers admit to cheating in a relationship.The survey also found that 34% of whiskey drinkers say they have done the same.
EduBirdie found8% of wine drinkers and 48% of beer drinkers have cheated in a relationship.
According to the results, respondents that drink whiskey (78%) are more likely to cheat in school. For Tequila drinkers the results were a little better, with 33% saying they had cheated in an exam.
For wine drinkers, the figure was 13% and 63% of beer drinkers polled said they had cheated in school.
EduBirdie collected the data through a third-party survey service, which questioned 2,000 US drinkers representative of men and women aged between 18-24.